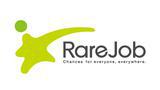 https://s3-ap-southeast-1.amazonaws.com/kalibrr-company-assets/logos/XQBJ9ZXCRYPBGE2EQN2L-58b4e525.jpg
RareJob Philippines, Inc.
Verified Kalibrr employer 
Office Address
5th Floor, Sunnymede IT Center, 1614 Quezon Avenue, South Triangle, Quezon City, Metro Manila, Philippines
About RareJob Philippines, Inc.
RareJob Philippines, Inc. is a subsidiary of RareJob Inc., the #1 Online English Tutorial School in Japan (in terms of the number of students and tutors)
We are looking for smart, driven, and excellent individuals who will set the mark and walk the path of innovation with us.
More than just gaining profit, we aim to make a positive change in the world.
Join us as you venture into a stimulating and challenging career.
Be part of the RareJob Family!
Job openings at RareJob Philippines, Inc.
1
/c/rarejob-philippines-inc-1/jobs/233126/senior-software-quality-assurance-engineer
2
/c/rarejob-philippines-inc-1/jobs/233123/project-based-quality-assurance-engineer
3
/c/rarejob-philippines-inc-1/jobs/225032/it-project-manager-2
4
/c/rarejob-philippines-inc-1/jobs/233523/senior-web-developer-software-engineer